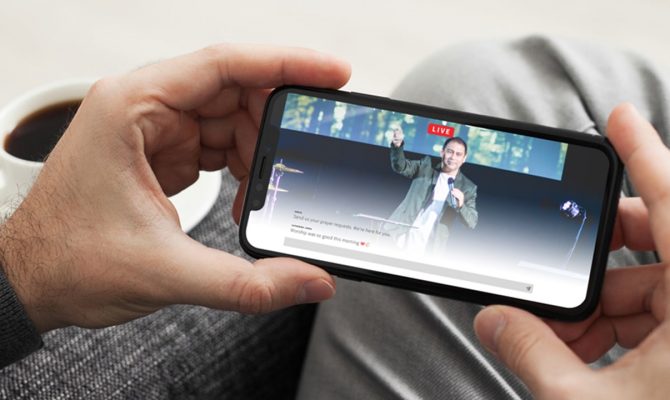 Vier eenvoudige stappen om een kerkdienst te streamen
Eenvoudige en praktische stappen om uw kerkdienst te streamen en te delen.
Omdat kerken over de hele wereld hun kerkdiensten moeten "heruitvinden", gaan veel van hen over op streaming diensten op het internet. Is dit iets wat uw kerk ook van plan is, maar niet precies weet waar te beginnen? We hebben vier praktische tips om ervoor te zorgen dat de eerste ervaring van uw kerk met streaming zo soepel mogelijk verloopt.
Planning. Net als bij een gewone kerkdienst, waarbij de liturgie en de preek worden gepland, is het raadzaam de details voor een online kerkdienst te plannen, voordat u zelfs maar begint met opnemen of streamen. De video die u streamt kan worden geüpload naar en blijven staan op YouTube, Facebook of een ander platform, waarmee u een bibliotheek opbouwt en die kan worden bekeken door enkel de eigen gemeente of door een groter publiek. Door vooruit te plannen kunt u een betere streaming ervaring bieden. Probeer iets te plannen dat u zelf wilt ervaren terwijl u de livestream bekijkt.
Alles wat u nodig heeft is een smartphone. Het streamen van de kerkdienst hoeft niet duur of ingewikkeld te zijn, en met een beetje eenvoudige planning kunt u uw smartphone camera gaan gebruiken! Op YouTube vindt u veel tutorials die u stap voor stap laten zien hoe u aan de slag gaat. Laat u niet overweldigen. Begin met wat u hebt en breid het dan stap voor stap uit.
Kies een platform. Er zijn vele geweldige streaming platformen om uit te kiezen. Misschien heeft u de app al op uw telefoon geïnstalleerd! U kunt gratis live streamen op Facebook of YouTube, maar ze geven u niet zo veel controle over uw content als een commerciële dienst. Zoek een streaming platform dat bij u en uw gemeente past. Deze platforms zijn zeer verschillend, sommige zijn gespecialiseerd in beveiliging, terwijl andere min of meer online opslag bieden. Neem de tijd en overleg met specialisten om uit te vinden welk platform geschikt is voor uw kerk.
Stel u in op geïnteresseerde kijkers. Plan vooruit, wees creatief en doelgericht. Er is niets erger dan een wankele video, dus gebruik een statief, controleer de lichtomstandigheden, gebruik goede schijnwerpers, kijk uit voor ongepaste schaduwen en denk aan rustige, passende achtergronden. Neem de tijd en kies een plek die rustig is en een achtergrond heeft die er leuk uitziet maar niet afleidt. Zorg ervoor dat de camera niet te dichtbij of te ver weg is, zoek een middenweg die er mooi uitziet maar ook goed klinkt. Film in een rustige ruimte, zodat het geluid de best mogelijke kwaliteit en helderheid heeft. Gebruik een microfoon om het geluid beter te laten klinken. Doe wat tests, neem een testvideo op en bekijk het resultaat om een tweede en derde inzicht te krijgen over het uiterlijk, het gevoel en het geluid.
De overstap naar enkel online diensten is voor vele geen leuke gedachte. Maar als je hier met toegewijde kerkleden aan werkt, kan er iets nieuws worden gecreëerd dat voor velen een zegen kan zijn. Hoewel dit een moeilijke tijd is voor de kerken, blijven wij bij CCLI vasthouden aan onze wens om de kerkdienst te versterken door betaalbare en legale inhoud, middelen en media aan te bieden.
**Mogelijk moet u de licenties van uw kerk aanpassen om er zeker van te zijn dat u voldoet aan de eisen voor het streamen van tekst en muziek. Meer informatie vindt u op ccli.com