What We Provide
Copyright Licences
Protect your church. CCLI's copyright licences ensure your church is covered, simply and legally. The Church Copyright Licence™ is tailored to your congregational singing and can provide broad coverage for lyric projection, service sheets and instrumental/vocal arrangements. As an agent for BUMA / Stemra in the Netherlands, CCLI provides cover for churches who hold concerts, play background music or wish to stream their services.
Copyright Licensing highlights:
Access more than 200,000 song lyrics through SongSelect - NEW!
Efficient, cost-effective solution for legal compliance
Project or reproduce songs
Make custom arrangements and translations where no published version exists
Play music live or from a recording
Stream music on a website
CCLI Streaming Licences
Stay connected with your congregation. Start streaming or webcasting live-recorded worship services. Over 3,000 publishers are covered, representing the vast majority of Christian songs sung in worship services. If the Church Copyright Licence covers song activity in your usual place of worship, the CCLI Streaming Licence™ and CCLI Streaming Plus Licence™ extend that protection to services posted online. Start reaching your community through online ministry today.
Streaming Licensing Highlights:
Post live-recorded worship services on your church's site or other streaming platforms like Facebook Live or YouTube
Stream your worship services to your favourite social media sites like Facebook Live or YouTube
Stream master recordings and multitracks (e.g. stems)
SongSelect
Find the music that moves you. SongSelect is the definitive source for licensed content that draws from more than 100,000 songs of worship. You'll discover and download current and traditional audio previews, lyrics, and transposable chord sheets, lead sheets and vocal sheets. SongSelect puts resources for the great songs of worship within reach—through instant access to our extensive library of sheet music and media—while reducing the investment of resources required to find the best copyrighted assets for worship.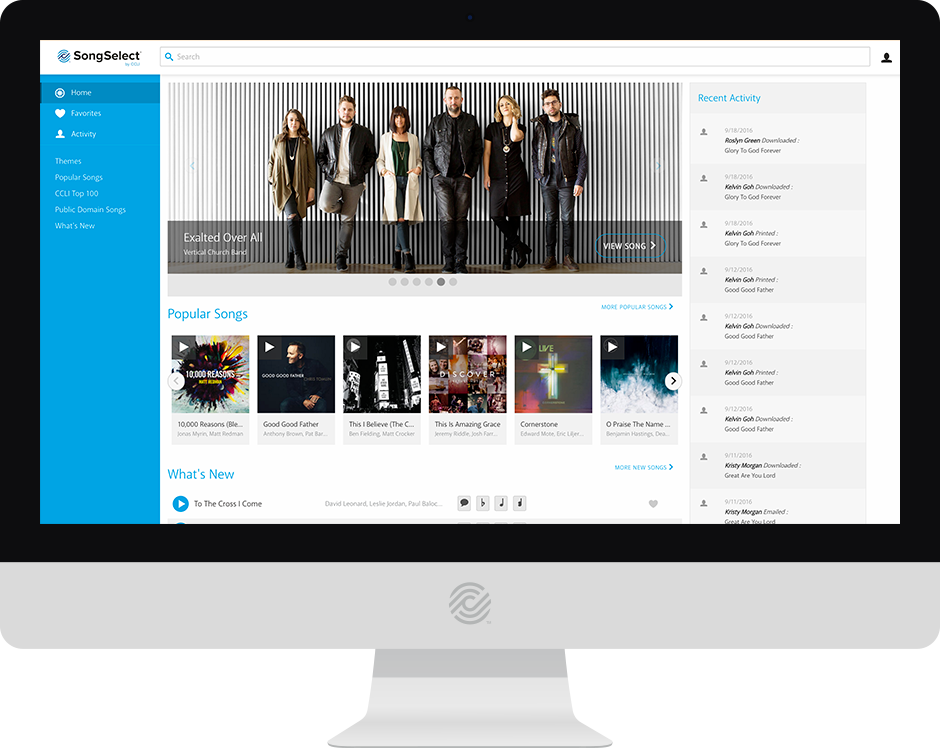 SongSelect features:
100,000+ songs of worship at your fingertips
Access Lyrics, Chord, Lead and Vocal Sheets
Discover songs by Title, Author, Lyrics, theme and more
Quick Search, favourites, Popular Song Lists, 3rd-party Integration
Song samples from world's top labels and studios
Free access to all songs and resources in the Public Domain